John G. Crawford Funeral Director offers a complete and wide selection of caskets. The caskets offered for your selection range from solid hardwoods of Poplar, Maple, Oak, Cherry, Pecan, Mahogany and Kosher all wood construction. Our metal caskets range from light gauge Steel, heavy gauge Steel, Stainless Steel, solid Copper, and solid Bronze. Some of our caskets can be personalized with special end corners and interior panels such as American Flags, veterans emblems, Praying Hands, Crosses, Star of David, etc. We have a complete range of prices from inexpensive to elaborate. A complete list of caskets and prices are available.
Click Here to See Caskets and Vaults

A wide selection of outer burial containers or vaults are offered. A complete line of concrete vaults from plain concrete up to the bronze lined vaults to select. A complete list of vaults and prices are available.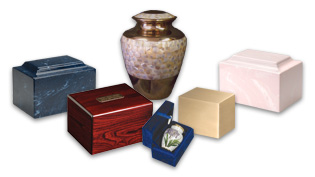 Memorial Urns are permanent containers for the cremated body. A wide range of styles and prices appropriate for burial, niches, scattering, keepsakes or discreet placement in a home. Your personal plans for the final placement of the urn can play an important part in your selection process. Some urns are ornately designed for display purposes while others are very basic in style. Many of the urns can also be personalized with engravings or laser designs.

All cemetery monuments of different types and styles are available for your selection. We are able to accommodate your requests for inscriptions and setting of all markers.
If you have any questions about preplanning, contact us at 914-438-9843, or E-Mail Us Here